Super Mario & Sonic the Hedgehog history at the Olympic Summer Games 2008 2012 2016 2020
We all dreamed of Super Mario and Sonic the Hedgehog meeting up one day but like WWF vs WCW it seemed like a wild dream that would never happen in the 90s. When Sega became a third party and started making games for Nintendo it was like a dream come true but we would still feel like that crossover with Sonic would never happen on a Nintendo console. People tried to get Sonic into Super Smash Bros and we felt like it could happen after Snake of Metal Gear Solid made it into the roster but then one day we got the annoucnement but it wasn't what we expected, it was a game featuring the two biggest franchises but at the Olympic Games. Bitter sweet, I mean they were getting a crossover and the olympics are cool but it's not what we wanted. Nonetheless I bought the game in a heartbeat and in honor of the Olympics we'll take a look at this great rivalry that is so big it seems they can only do it every 4 years at the Summer Olympic games so let's take a look at all their opening animations.
Mario and Sonic at the 2008 Olympic Games in Beijing China:
We get an epic intro following the stadium as two of the biggest gaming icons and franchises start a race together. No ohter olympic event could ever match this sprint. We see some other events going on between the different characters to not the most pleasing music but while it coudl've been a bit better, just seeing these characters competing against each other for the first time was enough as we see Mario and Sonic getting close to the finish line.
Mario and Sonic at the 2012 Olympic Games in London England:
This time we do get more context that they're in London where it was a bit more generic last time, since it isn't the first time they need to work a bit more but Sonic and Mario still get their focus as they should. We continue seeing some of the newer events added and how they have different outfits for the events. It's nice seeing them but the music is still not the best but it's just nice to see the characters competing.
Mario and Sonic at the 2016 Olympic Games in Rio Brazil
We again get more focus on where they are this time around with a theme of the location. Most of the newness of the characters interacting has worn off but they focus on the new characters taht are now in the event and weren't before. We also get a nice parade which is a bit cool as we see different events being competed in.
Mario and Sonic at the 2020 Olympic Games in Tokio, Japan
We get a very Japanese like intro and see the characters make their entrance once again showcasing the different events for this olympic game, but sadly it doesn't do too much new other than just do more of the compilation of events. We do get a quick glimpse of the 8-bit and 16 bit feature.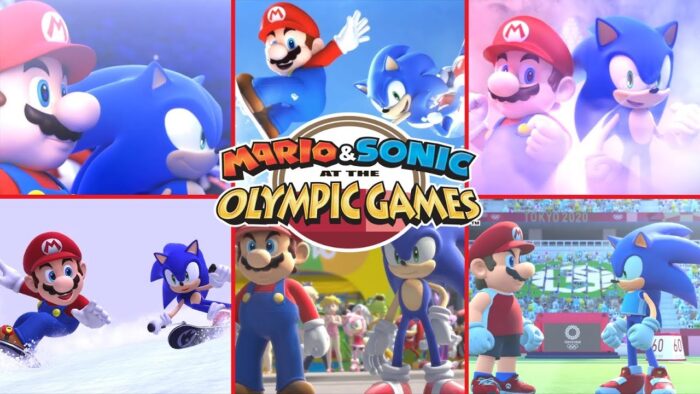 It's nice to see the little opening cutsenes but I wish there were something more, we do have a bit of a story line in the last few entries which makes up for it. Will we get more Sonic and Mario at the olympic games? Perhaps if Sega holds the license it seems like they'll continue to make them so I'm sure we'll add the 2024 games here eventually. Perhaps it doesn't make sense and it isn't what we wanted but it's still the crossover of the two franchises we love.
Let's not forget Mario actually made it in the real Olympics in the Rio 2016 closing ceremony for the hype builder of the 2020 Olympic games