Layton World Walkthrough: Puzzles D – E – F
Professor Layton's live online game of "real" puzzles called Layton's Mystery Journey: Real World Puzzle Solving or Layton World for short launched to help promote Layton's Mystery Journey: Katrielle and the Millionaires' Conspiracy is now online. As this is a timed based web based game the puzzles will eventually get lost to time; so here we will have an archive of the puzzles as well as hints and solutions for those stuck in any specific puzzle. The puzzles are not that difficult so I would suggest only looking at the answer if you're completely stumped. Here we will take a look at Puzzles A – B- C.

Let's take a look at the ninth set of puzzles, for the previous ones click here. Read hints separately and only use the next hint if you still can't solve it and check your answer by highlighting to read the spoilers. To re-create the Translaytion feature I pasted some of the most useful, interesting or amusing advice found there.
D) The Interloper
This puzzle made us tweet out a specific word given to us in our language and from there on feel the squares below. It was a bit difficult since people were tweeting out words in their language making it a bit more confusing. Here we have compiled most of the words in a few languages most specifically English which is complete.
Hint 1: Each letter of the alphabet represents four bits of information. Find the odd one out from the group of four words. The odd one out from the 'a' group is 'eye'.
Hint 2: After finding the odd one out for each letter of the alphabet, look at the four removed words from groups 'a', 'b', 'c', and 'd'.
Hint 3: Taking the odd one out from groups 'a – d', groups 'e – h', groups 'i – l' and groups 'm – p', what is the final odd one out from this last group of four words?
Translaytion:
I was able to confirm again the power of Layton world that "This world will be united and solve the mystery" at this time! Everyone in the world, thank you once again. And let's go over the remaining problems too! !
It is more fun to cooperate with a lot of people and solve it.
I'm down to three letters but it still doesn't make a word. What am I doing wrong
To all those still searching, the answer is the odd one out of the final four words
Answer to the puzzle (Highlight to see):
glasses
E) Follow the Instructions
This puzzle required you to call a phone number and there was originally a mistake in it. You draw the clocks, get a phone number, call, it's in spanish, translate, solve! Many people called a place called Eco Clean accidentally.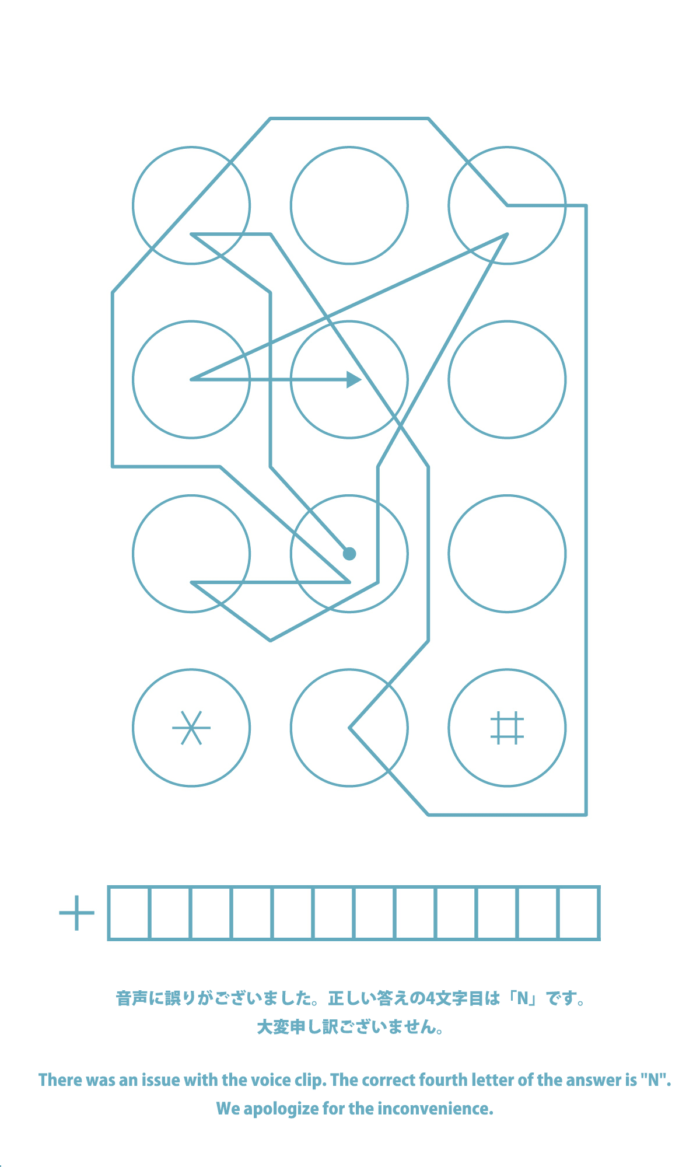 Hint 1: There is a telephone number in the hologram.
Hint 2: Draw four clocks, and follow the instructions to connect the clock numbers.
Hint 3: If you connect the numbers on the clocks as instructed, a word will emerge.
Translaytion:
The message asks to draw 4 clocks and join numbers: 11-7-5-12-6,11-7-5-1-11,1-5-1
Although on the phone they say 1-5-1, they should say 11-7-1-5 (but hey, it's easy)
Thanks to the people who translated it I could figure out … … Whether it could not change language depending on number ()
Eco Clean, I'm really sorry …
Eco – clean is suffering from a sudden increase in mistakes phone …
Answer to the puzzle (Highlight to see):
lion
F) The Mysterious Coloured Balls
Back to the US and to a baseball stadium in a Baseball themed puzzle. For this one all you need to know is some basic rules of Baseball.
Hint 1: The Three balls represent something. Check out the AT&T park nearby.
Hint 2: There are three types of balls in baseball that start with 'B', 'S', and 'O'.
Hint 3: B is BALL, S is STRIKE, and O is OUT.
Translaytion:
People who don't know baseball might have some trouble with this one.
I'm walking around but I don't see it
In Korea, baseball is just a game, a manga or an annie watching on TV. It was easy to understand the meaning of BSO and it was just right. It would be difficult for someone who does not know baseball.
Perhaps it is an old story that Japan and the United States are different. When I was a child I was in the order of SBO in Japan, now it is in order of BSO according to America.
Answer to the puzzle (Highlight to see):
ultra
If you missed the game as it was online well you missed a heck of a time but at least you can still solve the puzzles. For the rest of the Layton World Puzzles click here. If you have any questions on the puzzles ask me on twitter @9sdp or email me [email protected]
If you enjoyed the article or have any thoughts let me know by commenting below or by tweeting at me. You can also share the article or hit me up an email with your thoughts, it's nice to hear from other fans.