Undertaker returns at Judgement Day 2000
"As I lay me down to sleep;

I pray my soul is mine to keep.

And never step outside this bed, never

Into all the evil, Now back from the dead."
The Undertaker left WWF television in the fall of 1999 because of an injury or "in show" explanation of he didn't want to follow rules so he left. I hadn't been a fan of The Undertaker at that point and didn't understand why anyone liked him or why people kept asking for "Taker" to return.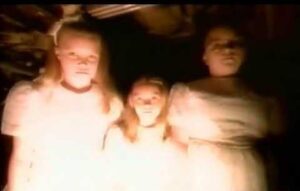 For about two months we kept seeing vignettes of The three girls in what seemed like a boiler room with fire. As the Judgement Day Pay-per-view approached they kept getting longer and longer. They would air on Raw is War, Smackdown and all the re-cap shows like Livewire, Superstars and Sunday Night Heat. Many of us speculated it had something to do with Kane and boy were we wrong.
Come Judgement Day we see that it was indeed the return of The Undertaker and boy were we happy since Triple H and the McMahon's kept screwing everything up. Looking back The Undertaker didn't do us any favors as he cost The Rock the match for no real reason since he isn't the person who "helps" others a lot. Nonetheless at the time I found it amazing how he wiped the floor with everyone at the event and the next day at Raw.
I was never a fan of his biker gimmick or Kid Rock's "American Bad Ass" entrance theme since I wanted "dead" Taker and not this one but I took what I could get. His return video was awesome though and scary which is even more odd for him not to come out as his usual self since it fit it. So let's enjoy the original entrance / return promo that included the creepy girls talking before The Undertaker's theme
The next Monday Night on Raw is War he debuted the biker American Bad Ass theme officially and also had the bead ass intro in full force