Olsen Twin's So little time came out and we were not worthy of it
As I mentioned last time, I became a big fan of the Olsen Twins thanks to their show Two of a Kind. I was also sad to see it go but shortly after it ended I got to see some commercials for this new show called So little time. It's as if the gods of mythology had heard my cries. The show seemed to feature the same type of zanyness from Two of a Kind, the show's name was So little time.
The show like the previous one also features Mary Kate and Ashley living their lives as growing teens, this time however they're a little bit older which gave the potential to do more stuff. The premise was different yet similar enough to two of a kind. You still had divorced parents but this time both are alive, and fashion designers.. Hmm so they're actually rich in this show and live in Malibu California which I guess gives an interesting setting.
Mary-Kate is now named Riley and is the tomboy again and Ashley is Chloe the girly girl, but those personalities aren't as pronounced as in Two of a Kind and both Riley and Chloe are pretty much the same because of it, it really helped define each twin sister better instead of both kind of blending together. They also lack the personality they used to have. I do like their names though even if they aren't named after their real names.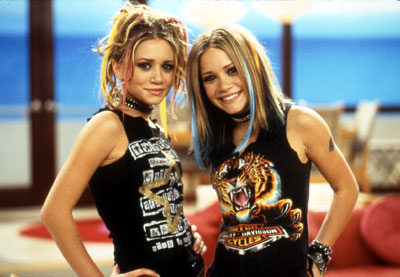 The supporting cast is mostly ok, none of them are really memorable and even have more annoying personalities than anything else but you end up liking them enough to tolerate them, not much more than that though. So you are left with a less interesting version of the Olsen Twins also with a less interesting supporting cast. The plot of the episodes also doesn't help as they're nothing too great either to make up for the lack of interesting characters.
The show also seemed to skew a little bit younger than Two of a Kind which felt more of a coming of age series and seeing the Olsen Twins grow up while here we mostly just have a generic comedy and the humor is usually more slapstick and not as funny. Instead of a spiritual sequel it felt more of a soulless sequel. Maybe that's the reason it lasted even less.
The Olsen Twins were a marketing juggernaut though as you can see even with this show also failing the book series made enough stories to continue even after the show was long gone. Hopefully those stories are much better than this one. While a disappointment, I can say I still enjoyed it and if you're not too picky you can have some fun with it and it's early 00s aesthetics that it has.
If you enjoyed the article or have any thoughts let me know by commenting below or by tweeting at me. You can also share the article or hit me up an email with your thoughts, it's nice to hear from other fans.