Extr@ French Lost Episodes / Season 2 (Extra German, Spanish)
Extr@ was a sitcom made to help people learning a language whether it's French, German, Spanish or English that you should watch, here is the reason why. Only problem is that the show only lasts 13 episodes and while it's not a story driven show you do grow to like the characters and you want to know what else happens and if your perfect couple got together. While the show finished and leaving us on a cliffhanger about what happened, I"m here with the information of what exactly happened.
Whether you followed Sam Scott, Hector Romero along Annie, Anna, Ana, Annie Taylor, Sacha Sascha, Lola, Bridget Evans, Nico, Nic Pablo, Nick Jessop in the English, French, German, Spanish versions they all followed the same script and used the same sets. Only some jokes and dialog had to be slightly modified to better fit the language in question. The actors did give each role a slightly different take on each of them as well but besides that the 13 episodes are exactly the same. The interesting thing here is he English version actually got 30 episodes and thanks to them we know how the story was going to continue after the last episode. So while they couldn't find the budget to continue the other language versions, here is the episode list for the other 17 episodes.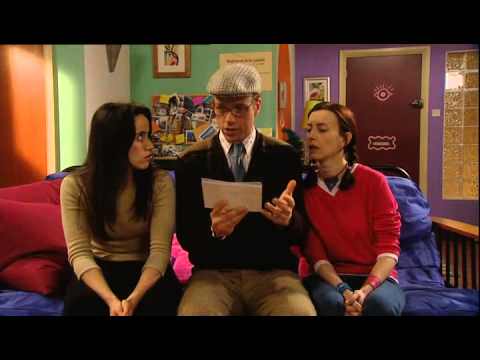 Extra @ French Season 2 Episodes 14-30
Episode 14 Changements
Episode 15 Le videur
Episode 16 Oncle Nico
Episode 17 Cyber Stress
Episode 18 Juste le billet
Episode 19 Combat de Kung Fu
Episode 20 Chaque chien à son jour
Episode 21 Les Entertainers
Episode 22 Haunting à l'Halloween
Episode 23 Action ou Vérité
Episode 24 Pilote Nico
Episode 25 Art
Episode 26 Alibi
Episode 27 Pouvez-vous vivre sans …?
Episode 28 Noël
Episode 29 Camping
Episode 30 L'amour fait mal
(Changes, The Bouncer, Uncle Nick, Cyber Stress, Just the Ticket, Kung Fu Fighting, Every Dog has its day, The Entertainers, Haunting at Halloween, Truth or Dare, Pilot Nick, Art, Alibi, Can you live without…?, Christmas, Camping, Love Hurts)
So what exactly happens in these episodes? Just a bunch of shenanigans to learn new vocabulary but here is the low down. We last left Sam and Annie as they cancelled the wedding but Sam's mother had already arrived so the next episodes is all about dealing with Sam's Mother. After that we have Nico and Sasha who finally start dating only to eventually have problems since well…Nico is being Nico. One day Nico has to baby sit a kid since he hopes to get a role from director Georfe Ducas. At some point Nico gets jealous and him and Sasha decide to break up. All of this sounds more dramatic than how it happened but hey it's what happened.
After that we get some other random episodes where they install a new computer or one where Annie learns how to drive. There is also a Miss EuroBabe Beauty concert in one of them in Channel 9 and Sam and Nico somehow get into the contest after almost messing it up and Nico almost wins only for Annie to win it in the end. Nico gets a job with KungFu star Ricky Chung and Sasha is about to get fired from her job. Annie starts seeing this new guy named Ricky and breaks up with Sam only for her to find out it's the same person Nico was talking about and she gets back with Sam..
On another episode Sasha gets a new boyfriend who turns out to be a thief but only after he created some friction between her friends. Sasha gets dumped again and they go on a game show / Reality Show where they all end up technically losing. Oh yeah and Sasha gets fired. They babysit a dog, who gets lost and Nico is arrested for taking him and the dog whose name is Charlie ends up winning a dog show contest. In another weird episode Sasha learns hipnotism and to meet someone they dress up as fairies, yes, what? We do get to see a Halloween episode where everyone gets scared as well as a Christmas special which is nice.
They also play truth or dare and go on for days only telling the truth which brings them a lot of trouble and Sasha being fired from her job yet again (yes it's always the same Channel 9 job). In another episode she messes up the arrangements of her boss' apartment so the boss stays in her apartment for a while because she doesn't want to get fired. Worth noting that Sam is still working for this same company. Annie's animal rights activism is seen in another episode and Sasha starts to date with an artist. The police are on the look out for a thief and Nico needs to go to the dentist, Sasha also hurts her leg really badly in one episode. And they go camping only to be scared.
Finally Annie thinks Sam is cheating on her and the others think it too since he acts suspicious so she tries to date another guy only to find out Sam was offered a job in the U.S. as a Producer at the biggest TV station of the country and he doesn't know if he should take it or stay with Annie there. And this is where the adventures finish for all of them, we do get a "what will happen?" similar to the one after the 13 episodes. Sadly no more episodes were ever made. But at least thanks to these extra 17 episodes we know a little more about the story of these characters. Oh yeah and apparently all of this took place over a year and since no more episodes were made I guess Sam did take the plane back which is why the adventures finished even if it was hinted he would stay. And that's the end, it began when Sam arrived to France and apparently finished when he left.
For more French Learning Articles click here. If you enjoyed the article or have any thoughts let me know by commenting below or by tweeting at me. You can also share the article or hit me up an email with your thoughts, it's nice to hear from other fans.