Every Barney Live on Tour Because Yes
As I make my way through Barney's Legacy due to my dedication and love for him and my own self-hatred. I pondered for a while what could my next themed Barney post be about. And if there's something more magical than watching Barney on the TV as a toddler, I guess it would be to meet him in person..in real life. So with that said here is our little tribute to the Barney Live events and Tours. My love for barney is so big that I can put up with the dancing and song Bee Ess just to get more Barney. For this ride we will take a look at all national US Tours, Theme park live events and one off Live shows on Barney Home Video.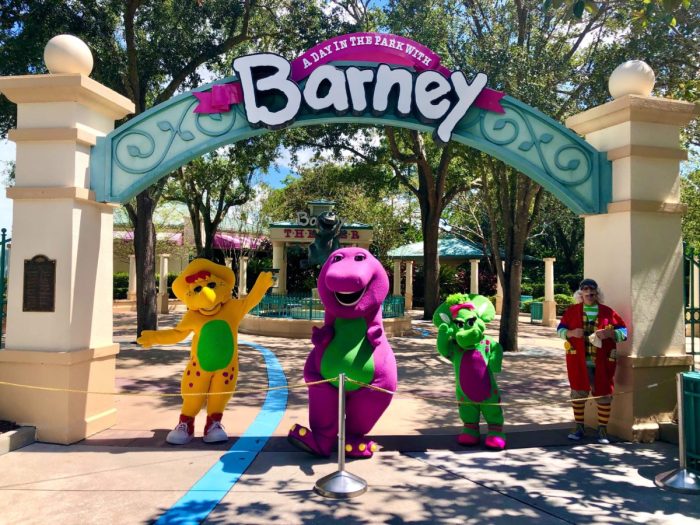 I was a bit older than the target demographic of Barney the dinosaur. In fact much older. However there was a live show with Barney, the character that I loved so much as a kid. This was in Universal Studios Florida and I did not care that there were other cool rides and stage shows that were all most likely much better. I wanted to waste my precious time at the Barney event.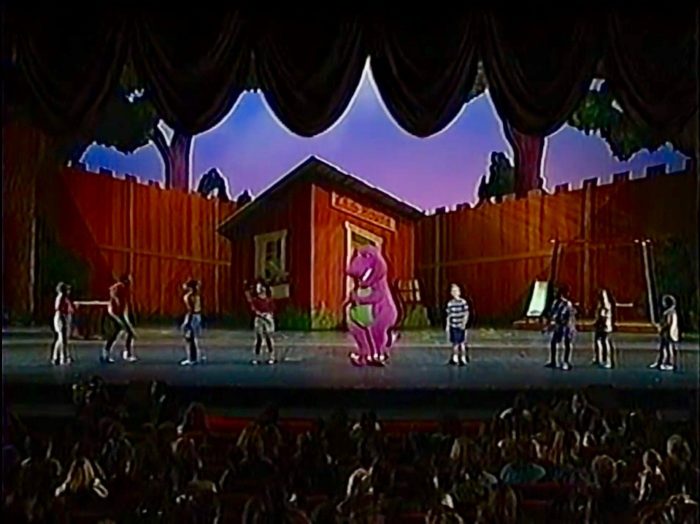 I was easily the oldest person there towering over a bunch of little kids but I didn't care. The glance my family gave me likely trying to tell me how much time I was wasting on this little kids show. But I watched it all. I remember it wasn't something that I found super entertaining but I was star struck just to see the real Barney costume in front of me and not a TV.
A Day in the Park with Barney
In Orlando florida from 1995 to 2021
There more of a story in this one. I got to watch a Covid video and it's super depressing but also watched some earlier versions nad overall it doesn't seem like the show changed too much in its 25 year history.. As a kid when I watched this I was star struck. couldn't beleive I was seeing barney. the preshow has a lot more going than the actual show which is just barney singing songs at least Baby Bebop and BJ show up.. the whole house with a lot of stuff for the Dr. s ientist Mr Peekaboo to do. It also changed slightly with time and thematics if its hallloween christmas but nothing too drastic
Barney alton towers Barney's Theatre from 2000 2005
IN England, in a way it's better set up for a show, his tree house set is nice. pretty basic just the usual songs.
After this well the review quality dips the further I dig deeper but really there's not much there but songs + some throw away lines of the theme of the tour
Barney in Concert VHS
Majestic Theater in Dallas, Texas on May 26, 1991. theres's not much of a plot on this one unlike the other tour but I guess it doesn't matter. early barney before this show. it's the debut of baby bop and her origin story so it's a damn important continuity wise among the entry of Barney canon.
Barney Live! in New York City
Radio City Music Hall For Barney to come and Play you need to use your imagination. You can see how some parents are definitely not happy to be there. A bunch of nobody kids get introduced as if they were important. And they sing a kids song. at least we get the backyard club house. babybop shows up which I like, she's such an annoying little bitch I can't help but love her and her blankie. I mean wtf is wrong with her. Barney bag makes it in. an elf steals the barney bag and songs ensue, I don't see how a kid can stay paying attention with these many songs. barney says the thief is just playing tricks and it's ok so don't worry kids, the winkster? but i don't know i think i rememberbeing in simialr stage shows participating like an idiot perhaps i would've enjoyed it. BJ appears and introduces himself. winkster. I feel like I watched an hour already and it's only been half that time. i stopped paying attention after so many songs to the plot but for some reason they end up in a circus. winkster just wanted friends so a kid tells him he just needed to ask it. exclusive to ny this show.
Tours: Barney's Big Surprise
1996 until 1998, apparently such a great story it got a book adaptation. we see the tree house. babybop bj are in it. usual songs. why are kids so happy how much of that is editing. poor kids that are all the way back. they make appearances as if they were wrestlers in a way i like it.this is actually bjs birthday which is the big surprise. i like when random animals or inanimate objects come and start dancing witht he cast. in all these shows. the whole show revovles around the birthday party. bj disappointed about his scooter sheningans happen spoiler alert he gets the scooter. mother goose and many different appearances with all the classic songs. cake everything
Barney's Musical Castle
2001 also good enough to be a book, it's the one they play in Jurassic Park ///. they visit the Musical Castle in the enchanted forest, it's doing something more. many of these tours ttortured parents worldwide. Excuses to sing songs in the castle, I give them credit that at least it changed things p.
Barney's Colorful World!
2004 they use imagination to go around the World, at leas thte sceneary canges, so it's kinda interesting, seeing barney in themed outfits is alWays the best. not even mario changes level climate themes this fast. schnick schnack schnuck. climate rain forest elephant song is swag

Barney Live! – The Let's Go Tour 2006
act 1 360 vr ready Tee-riffic Toy Factory looks more low budget, riff first appears here
baby bop needs toys
Barney Live in Concert – Birthday Bash! 2010
fifth final his bday finally
Luckily for those unfurtunate few got to watch it through Barney Home Video. Normally a lot is lost in these live shows when they are recorded as half the fun is being there and any taped version just dissapoints..but I'm guessing in the case of Barney, it's really not that different from his normal videos. He disappoints either way.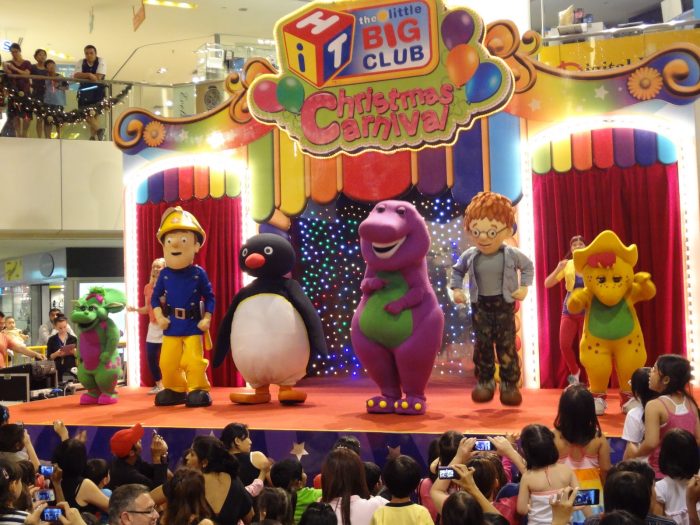 Barney in Concert (1991)
Barney Live! In New York City (1994)
Barney's Big Surprise (1996-1998)
Barney's Musical Castle (1999-2001)
Barney's Colorful World! (2003-2004)
Barney Live! – The Let's Go Tour (2006-2007)
Barney Live in Concert – Birthday Bash! (2010-2011)
there are many many stage touring shows and all of ths shait is archived for the love of god. if not complete clips, i covered attractions at theme parks and all the home video releases and main tours but not every live appearance or international tours
I just can't I can't do it: I tap out. only exception to the universal studios one.
the international tour do sound more interesting… maybe one day
Kids' Playfest • Barney at Grand Ole Opry • Barney's Open House • Barney's Zoo Tour • Barney's Beach Party • Barney's Purple Park Tour • Christmas Fun with Barney & Friends • Barney's Christmas Star • Learn and Play with Barney • Barney's Big Fun Time • Barney's Big Purple Bus Tour • Christmas with Barney & Friends • Barney's Sing Along Show • Barney's 20th Anniversary Concert • A Very Barney Christmas • Barney's World of Imagination • Christmas Surprise! • Sing and Dance with Barney • Barney's Jukebox Party • Barney's We're All Friends Show • Barney & Friends Favourite Hits • Barney's Birthday Surprise • Barney & Friends: Party Time • Barney's Magical Christmas El Parque Musical de Barney y sus Amigos • Barney's Let's Imagine • Barney's Dino-Mite Birthday! – Live On Stage • Barney's Space Adventures • Barney Rocks! El Concierto en Vivo! • Una Tarde con Barney y Sus Amigos • Barney Live! World Tour – A Celebration! • Barney's Greatest Hits – Live On Stage