MiscRave Summer Swimsuit Special: At the Beach
It's the summer and we all like to think of palm trees, coconuts and bikinis at the beach, so while it is great to hear some summer tunes there's something that I wanted to do on MiscRave for a while and that's have a swimsuit special post every summer. Each time we will have a different theme and for today's inaugural post it'll be a sampling of the different things you can find on MiscRave as well as making sure that it fits the summer beach attitude where every swimsuit has to have the be at the beach. So a little, live action, a little animation so there can be a bikini waifu for anyone's taste and one of the most iconic beach babes you'll find in different media.
Summer Bikini Rave Girls

We begin with Trish Stratus, but not the WWE health and fitness athlete but instead the bikini model that was originally hired for eye candy during the attitude era. Her titantron featured all her bikini photoshoots and was quickly promoted as the marketable woman for the WWFs magazines and Diva videos. She had many photoshoots and is the best representative for wrestling in this swimsuit special. She has a total attitude of what you would expect a bikini model from the late 90s to have and excels at it.
Trish Stratus of the WWF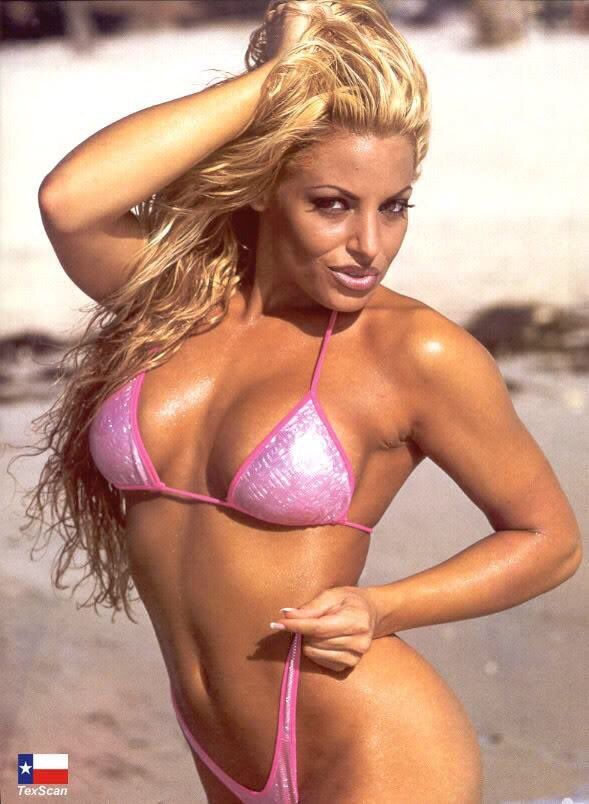 To change things up a bit we have Ty Lee who along with the rest of the fire nation crew went all out in their beach episode in Avatar: The Last Airbender and Ty Lee melted hearts through animation forums when the episode aired adding countless of NEET Fans to her répertoire. Her flexibility had already done enough to gain a massive following as well as her non-bending martial arts that she used against benders. Taking influence from anime definitely helped to make this the iconic beach wester animated girl.
Ty Lee of Avatar The Last Airbender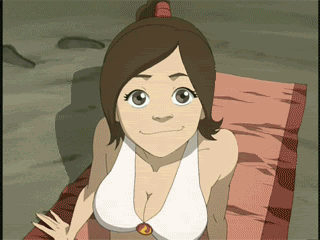 Kimberly of the Mighty Morphin' Power Rangers narrowly makes it to this article with A Star is Born where they were at the beach for the beginning of the episode. Kimberly didn't appear in a full bikini despite always Kimberly always wearing tight gymnast leotards and crop tops a bikini was considered a bit too risqué. Still the effort is applauded since she never really did wear bikinis in anything else and she still made tons of kids fall in love with her but beach episodes should've become a Power Rangers tradition.
Kimberly Hart of Power Rangers
Next on our list is not one but 6 different ladies representing Anime with the Ranma Girls and they all make the cut since it's nearly impossible to see them individually as they like being part of an ensemble of beach beauties. They were always using any excuse to show off their bodies, especially the likes of Shampoo who is trying to show off all her goods to Ranma and Nabiki Tendo who just likes ot show off. We have the "timid" Kasumi Tendo who would always put everyone else in shame going with the skimpiest outfit showing off her figure which she wouldn't do anywhere else. Ranma girl never did like putting on bikinis and neither did Akane but they would still try to be subtle while showing off. I didn't forget about Ukyo either
Ranma Girls of Ranma 1/2
.
Now to represent comics I couldn't think of many other series that ws so focused on sex appeal as Gen13, its covers captivated me as a little kid, especially with their "not for kids" labels the comics always had. And here we have Image's Caitlin Fairchild showing off her bikini to other guys who can't match her height or body mass. But her genetic advantage includes looks as well and that skinny 90s extreeeme look is not represented any better than here.
Caitlin Fairchild of Gen13
To have a movie actress I thought of Jessica Alba who was huge in the early to mid 00's, I never found her particularly attractive but she was everywhere from being a bad Invisible Woman to wearing the most iconic bikini of the decade with that Into the Blue film she made. So while her career faded like the Sin City sequel, this look is what you would expect from Maxim and FHM magazines  to cover during that time before the internet killed them and left them dead   just like her career.
Jessica Alba of Hollywood
Last on our list is classic Lara Croft from the 90s, she was in bikinis for plenty of prerendered shots but not many had her at the beach,  though I guess technically it could be in Egypt since we don't exactly see the sea but why would she wear a bikini there. Well half of it since she is actually topless and covering herself up as if she were in a photoshoot for  90s magazine which is pretty much how they used her prerendered models in gaming magazines for and I'm sure it worked to get subscribers, perhaps more than Jessica Alba even.
Lara Croft of Tomb Raider
It's been long overdue but this will become a tradition from now on featuring different themes Inspired by Sports illustrated and Marvel Swimsuit special's before we will always have different rules, for example Princess Leia's slave outfit couldn't make it since she's not at the beach with it or perhaps a more iconic Lara Croft bikini might not have featured the beach setting. Honey Ryder might've been a more iconic movie bikini but 007 seemed better fit for a different theme. See you on our next Swimsuit Special article.