Music Match Christmas – 3 X-Mas Music Videos ft Grace Jones, Pee-Wee, Splinter, TMNT, Alpha 5
I'm a big fan of X-Mas songs but since most of my favorites are the usual suspects that you'll hear a thousand times in stores by the time the season is over I thought I'd do something a little different. Today we feature three X-Mas songs that were featured in different Christmas specials so at least these are different interpretations from the usual classics and they have cool music videos to along with them as well. So, let's listen and watch 3 of MiscRave's X-Mas playlist.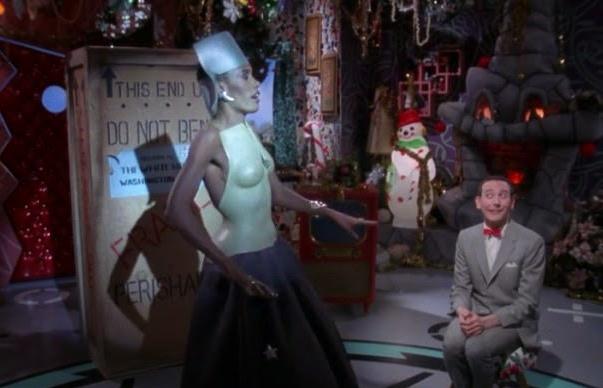 Grace Jones – The Little Drummer Boy – Pee-Wee's Playhouse Christmas Special
The oddest song in this odd X-Mas special by Pee-Wee Herman, the performance by Grace Jones is absolutely fantastic. You can tell just how much artistic fortitude just oozes out of her every movement even when she's in Pee-Wee Herman's flippin' Playhouse. I especially love it when Pee-Wee starts dancing like an idiot and Grace Jones just goes along with it. Her outfit is not very Christmassy in fact she takes her winter jacker and gloves and dances in this weird plastic body suit that makes you question if it's even appropriate for the children watching and yet mesmerizing at the same time, a must watch performance every X-Mas at MiscRave.
Splinter's 12 Days of Christmas (We Wish you a Turtle Christmas) TMNT
I'm a sucker for any variation on the 12 days of Christmas, add some cheesy Teenage Mutant Ninja Turtle inspired lyrics to the songs. The fact that Splinter looks like a hobo doesn't diminish this classic either, in fact it solidifies it as a must listen every year, I even like the honesty when he starts messing up near the end after it gets complicated. Seeing the turtles display the random objects is just the icing on the cake.
Alpha's Magical Christmas
"Merry Christmas" feat Alpha 5, Amy Jo Johnson, Jason David Frank
Possibly the only decent song from the Mighty Morphin' Power Rangers Christmas special and a good way to end. We see Kimberly, Tommy and Billy singing though I'd be lying if I'd say their voices are actually featured in the audio, you can definitely hear Alpha 5 and the random kids from the special but the rest of the cast is just lip syncing. Still it's nice to see their mouths move to the lyrics and seeing a montage of Power Rangers footage, not the strongest contender on this list but it has enough to make it in.
If you enjoyed the article or have any thoughts let me know by commenting below or by tweeting at me. You can also share the article or hit me up an email with your thoughts, it's nice to hear from other fans.