Best Wrestling Waifus: Hottest female wrestlers from WWF, WCW, WWE, ECW, TNA
It's Valentine's Day and the start of Wresting Wednesdays so I thought It'd be appropriately inappropriately to feature the best Pro Wrestling Divas, wrestlers or whatever your favorite term from them are. The rules are only one girl from each promotion and we're only going to take a look at WWF, WWE, WCW, ECW, TNA. It might be cheating having both WWF and WWE as separate brands but because of their monopoly and now their "brands" and I wasn't going to do a "Raw" or "Smackdown". For the list it was chosen mostly from our perspective of who was the most iconic in the time and that they stood out above others.
Tori (Terri Poch) WWF

Tori makes the list being the first woman wrestler I was interested in when I started watching WWF, which is odd since she never did much and was always overshadows by all the models and never got a good Woman's championship run. I think the fact that she looked fit enough to be a real wrestler is what made her have a certain appeal even if she was never that prominent. At least she was known for always doing lots of photoshoots with style as seen above. And still she seemed important enough that the WWF always featured her even if not doing much with her.

Queen of Extreme Francine ECW

Watching ECW you instantly knew who Francine was as she was promoted so much, while there was no real woman's division and she doesn't seem like a wrestler she just screamed extreme attitude. She kind of had that trailer trash tough chick aura emanating from her that you knew she was going to wreck your shit if you dared to get in her way. She never fit into the WWE for that reason as it didn't mesh with their models well.
Mickie James WWE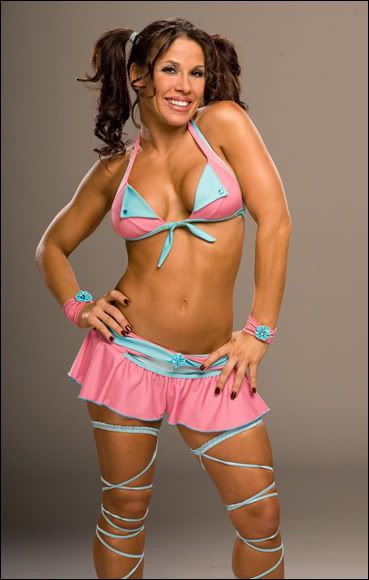 Coming back to the WWE was an easy transition in the mid-00s as there were plenty of new faces replacing the midcard that sat well. In the woman's division Mickie James seemed to really give it some fresh air to the roster with her personality. Lita would've been a too obvious choice which is why she wasn't chosen in either WWF or WWE but she could've easily been in it but ultimately didn't, Mickie's out of nowhere arrival helped boost her. Mickie is the only one in the list that seemed to fit best at WWE
Miss Hancock (Stacy Keibler) WCW

Out of all the WCW women it was Miss Hancock that really felt like she was a superstar and better than anything they had before in terms of iconic. Sadly when Stacy Keibler moved to the WWE she didn't carry the memorable Miss Hancock idea which is what made her stand out as not just another model but someone you should take a look at since she was doing something different. She's the only one here that doesn't have some type of naked pictures taken even if there are plenty of lewds out there because well Attitude Era.
Gail Kim TNA

I was never big into TNA and frankly this is the only iconic girl I know that was in the promotion that is good enough to make the list. Something about her just places her in TNA for me, she never felt quite right at WWE and it's hard to pinpoint exactly why. These were all awesome women of wrestling but there are plenty more that couldn't make the list so we might have to do another list to feature some underrated ones one day in the future.
For more Wrestling Post click here. If you enjoyed the article or have any thoughts let me know by commenting below or by tweeting at me. You can also share the article or hit me up an email with your thoughts, it's nice to hear from other fans.