Every Barney the Dinosaur Halloween special
In my never ending quest to cover all of Barney the Dinosaur, we finally get to Barney Halloween specials. Unlike Christmas specials Barney in his 15 years in television didn't get around to the holiday too much. We only have two specials. Thankfully Barney did have more of a spill over on Halloween through books and costumes which we will check it all out here because let's face it. If you're reading this…it's because you want to know more about Barney the dinosaur and how he handled Halloween.
Barney's Halloween party
This home video special for halloween didn't release until 1998, so that's a long time after Barney's main impact in the world, though it released the same year as the Barney movie. As always I prefer to watch the VHS version for added soul. The commercials are lame so I was looking forward to Barney showing up. The main thing to notice from this special is that it's not very themed to Halloween since it avoids any scary elements. And by scary elements I mean stuff you'd see in say Beetleborgs which are cartoony monsters.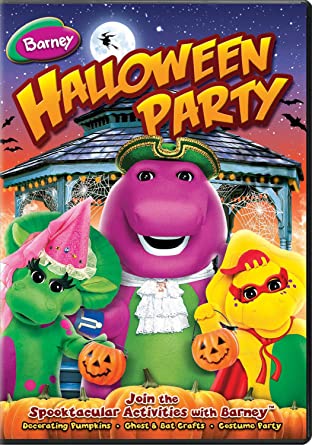 It's mostly songs about the fall or other things only vaguely related to halloween, there is a short section about making Jack o lanterns but even then almsot all are painted in bright colors and without faces. Heck the big reveal of a "scary spider" is a happy looking pink and blue adorable spider. None of the costumes resemble anything for Halloween as they are just costumes of professions like doctors, or brides and animals like cats. The closest thing to a real costume is a pirate one. It doesn't feel like a real themed special which is a shame. I guess they were afraid to scare kids or make parents not want to get this special? but how would conservative parents even know how safe it really is. I'm not even sure how they fill one hour with this content.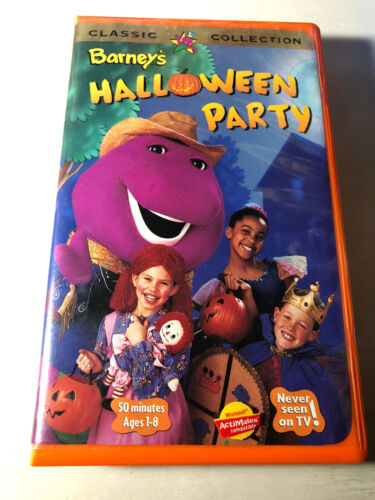 The best part of the special is the short segments throughout with BJ and Baby Bop. She's too young to trick or treat, but BJ convinces Barney she's finally old enough and she'll take care of her. Through out the special Baby Bop keeps making BJ go back because she forgot something for her safety.. like a flashlight and whatnot much to BJs annoyance , by the time they have everything they go to one house only to have run out of candy and baby bop gets an apple and BJ gets celery. The only time anyone gets candy is from a piñata in the shape of a tomato. Why? I don't know, bj does get some of that candy and then disappears with baby bop, creepy but that's I think their powers.
Barney the Dinosaur Halloween Special episode
The next time we see Barney tackle halloween wasn't until Season 11 Episode 13 (SCARY!) For some reason it's divided into two stories. Guess Who? Which the plot is about finding a costume, yeah that's pretty much eat. We do get a reference to Michael Jackson's Thriller. And the second part Sweet Treats is about a kid who lost his candy and going on his first halloween.
While nothing scary is ever shown in visuals at the very least they already embrace halloween more than previous special as they put more emphasis on what happens that day and we see more of the costumes. The budget definitely seems smaller here, unsure because it's not a special or just because later seasons had less budget. i like Riff the orange dinosaur, he's mostly useless but it's neat to see something new. I also like how bj still has that "cool 90s" cap and attitude. Nothing really happens but I guess that's most Barney's episodes, just a thread of a plot to go from song to song and at least in this special we do get more Halloween themed songs.
Barney the dinosaur Halloween Books
Barney actually fares better in picture book form that ironically show more halloween than the two specials in their one sentence per page 7 page books. There are two books Barney's Halloween Party and Barney's Trick or Treat! later compiled in Barney's Favorite Halloween Stories. Apparently one of them is read aloud by a Barney sound alike in a DVD but whatever the stories are simple halloween activities and trick or treating but at the very least feel like Halloween.
And I can't end a Halloween Barney post without mentioning that I once wore a Barney costume for Halloween. I really wanted it so badly and asked for it many times. However the day it came I was so embarrased that others would see me with it that I decided not to wear the mask with my costume most of the time. I don't understand the logic in that. But Barney has had a lot of Halloween costumes done before and I found this one that is way cooler than the one I actually wore.
With that we end Barney's Halloween celebration.