Why the Magic School Bus Opening is the gr.. CARLOS!
The Magic School Bus celebrated its 30th anniversary in 2016 and while I may have missed it, it's never too late to celebrate. It will be getting a new show as The Magic School Bus 360. So in honor of this let's take a look at the original opening to the cartoon.
It's quite a memorable theme song as it is catchy and the animation follows the lyrics to the song which are below. I wouldn't say it's a great song but it doesn't have to be, it's not an epic adventure show but more of a fun educational show that for some reason we watched.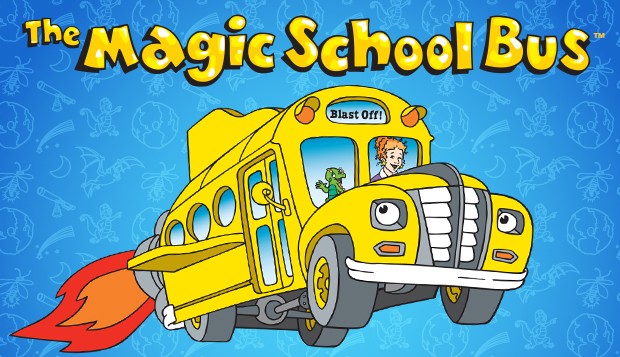 The Magic School Bus has inspired children around the world to get excited about science with its adventurous field trips led by a zany teacher named Ms. Frizzle. First with The Magic School Bus launched in 1986 written by Joanna Cole and illustrated by Bruce Degen and published by Scholastic. Ms. Frizzle was able to get kids excited about science with the crazy adventures. I guess we now now that this is one franchise that won't drop out.
Carlos!!!

Magic School Bus theme lyrics by Peter Lurye:
Sing along with the theme song!
Ride on the Magic School Bus
Cruisin' on down Main Street
You're relaxed and feelin' good
Next thing that you know you're seein'
Octopus in the neighborhood
Surfin' on a sound wave
Swingin' through the stars
Take a left at your intestine
Take your second right past Mars.
On the magic school bus
Navigate a nostril
Climb on the magic school bus
Spank a plankton too!
On our Magic School Bus
Raft a river of lava
On the magic school bus
Such a fine thing to do
So strap your bones right to the seat
Come on in and don't be shy
Just to make your day complete
You might get baked into a pie
On the magic school bus…
Step inside, it's a wilder ride!
Come on, ride on the magic school bus!